There's a reason they call it the Big Island. As largest island, Hawaii clocks in at a whopping 4,028 square miles. (It's almost as big as Connecticut, which measures 4,842 mi2!) In fact, the Big Island has more land area than all of the other Hawaiian Islands combined.i  
Considering the Big Island's substantial size, visitors sometimes decide to focus their time in one area, such as the Kona side. Of course, if you're lucky enough to move to the Big Island, you'll have as much time as you like to explore! 
If you're spending your time on the Kona (or western) side of the island, you'll find it hotter, drier, and sunnier than the Hilo (eastern) side. As a result, there are a several activities that Kona is perfect for, including playing golf and sunbathing on the beach. You'll also find a few diverse microclimates around Kona, including its famous "coffee belt." Add in the area's natural features and man-made attractions, and you'll find plenty to keep you busy.  To help you make the most of your time on the Kona side, we'll run you through some of our favorite attractions, activities, and things to do. 
#1: Sip Some World-Famous Kona Coffee
Pineapples and sugar used to dominate Hawaii's exports. Today, you'll find macadamia nuts and coffee at the top of the list, the majority of which comes from the Big Island. ii In Kona, you'll find a stretch of land paralleling the southwestern coast that's pretty much perfect for growing coffee. (Remember what we said about microclimates?) This area, known as Kona's "coffee belt," plays host to more than 650 farms. iii  
While you're in Kona, don't miss the opportunity to tour one of these coffee farms. We particularly like the one at Greenwell Farms. You'll get to see coffee growing in the field, discover how it's processed, and taste a cup of 100% Kona coffee. Their complimentary tours last 45 minutes, and take place daily from 9:00 am–3:00 pm. 
Admission:

 Complimentary. However, note that the tours take place over uneven terrain, so they may not be suitable for those with mobility restrictions. The farm also offers two-hour private tours for $75, which include a complete cupping experience, perfect for any coffee lovers in your group.

 

Website:

 

Greenwell Farms

 
#2: Dive with Manta Rays, the Gentle Giants of the Sea
Although the Big Island features many land-based attractions, there's also plenty of magic to be found in Hawaii's surrounding waters. On the Kona side, you'll find something particularly unique: a colony of more than 200 manta rays. Choose a local operator to take you out for a night dive, and you'll get the opportunity to observe these majestic creatures as they swoop and dive through the waters of the Pacific, collecting plankton for their evening meal. With wingspans that range from 2–3 feet all the way up to 12–14 feet, these graceful ocean dancers make for an evening well spent. 
#3: Relax on a Sun-Drenched Beach
When we hear the words "warm," "dry," and "sunny," we think of one thing: the beach. The Kona coast is pretty much perfect for setting up on the sand for the day. If you're a sun worshipper who likes nothing more than taking in some rays—perhaps while enjoying a great book—the Kona coast is just waiting for you. Two beaches we love: 
Mahaiula Beach

: Plenty of perfect white sand, palm trees swaying in the breeze, and gorgeous ocean views. Because this beach down a rough road, you'll want a sturdy vehicle to get you there. Your reward? Very few crowds.

 

Manini'owali/Kua Bay Beach

: If you like your beach with a side of snorkeling and swimming, Maniniowali is a great spot. Just make sure you bring your own shade, since there's very little in the area.

 
#4: Tee Off in Golfer's Paradise
With 16 golf clubs and courses designed by legendary names such as Jack Nicklaus, William Bell, Robert Trent Jones Sr., and Robert Trent Jones Jr., it's easy to see why the Big Island has been called the Golf Capital of Hawaii. You'll find a majority of the courses on the west coast of the Big Island, where the dry, sunny weather makes for ideal golfing. Expect stunning coastal views and over-the-ocean shots, all against the dramatic backdrop of the Kona coast's jet-black lava. You'll have plenty of options across a range of prices. A couple of options to get you started: 
Mauna Lani

 – You'll find two courses to choose from. Or, try the club's Wikiwiki course if want to squeeze in a quick 9. (

Wikiwiki

 means quick!)

 

Mauna Kea Golf Course

 – Originally opened in 1964, a 2008 renovation brought this course considerable attention and accolades. Most noteworthy is its famous third hole, which asks you to tee off right over a small cove of Pacific blue water. 

 

Kona Country Club

 – This course offers you the incredible views that many of the Big Island courses are known for—but with more affordable green fees. 

 
#5: Get Up Close and Personal with Some New Aquatic Friends
Jumping into the water at night with manta rays might not be your cup of tea. If that's the case—but you still want to explore Hawaii's marine wonders—we've got good news. You'll find both an octopus farm and a seahorse farm on the Big Island. Both offer the opportunity to discover more about these fascinating creatures from the comfort of dry land. 
At the Kanaloa Octopus Farm in Kailua-Kona, you'll enjoy a one-hour, small group tour of the research facility. Your visit includes the chance to interact with an octopus as you learn more about these intelligent and unique creatures. Plus, a portion of your admission goes to support future research. 
At the Ocean Rider Seahorse Farm, also in Kailua-Kona, you'll find yourself amidst thousands of seahorses at this three-acre farm. Tours include access to their interactive tide pool and the opportunity to view seahorses in all phases of life. (Did you know that the males of the species incubate seahorse eggs, then give birth to the babies? That's just the start of what you'll discover during your visit!) 
Admission:

 $69 for adults, $61 for children. $1 discount for military, seniors, and 

kamaaina

.

 

Website: 

Ocean Rider Seahorse Farm

 
#6: Discover Kailua-Kona's Storied History at Hulihe'e Palace
Kailua-Kona is an area that comes with a fascinating history. Originally the site of a small fishing village, it was also the home of Kamehameha the Great, the first ruler of the Hawaiian Kingdom. Kailua-Kona also served as the summer residence for later monarchs, many of whom stayed at Hulihee Palace. In fact, the palace has hosted more members of Hawaiian royalty than any other home in Hawaii.iv Originally built out of lava rock, the property was refurbished by the Daughters of Hawaii and now serves as a museum. It's a great spot to start discovering the area's compelling past. If you're lucky enough to be in the area for the palace's once-monthly concert, make sure to stop in to enjoy some authentic Hawaiian mele and hula. 
Admission:

 $22 for adults, $14 for children 5-12 years, $3 for children 4 and under. Discounts for military, seniors, and 

kamaaina

.

 

Website:

 

Daughters of Hawaii: Hulihee Palace

 
#7: Explore the Kona Landscape by Horseback
At Hoomau Ranch, you'll get the chance to see the Kona landscape from a different perspective—from astride a horse. This family-owned ranch's small-group tours offer the opportunity to roam green pastures dotted with cows, as well as an ohia forest—all against the backdrop of breathtaking ocean and mountain views. If horseback riding isn't your thing, ATV tours are also available.  
Hoomau Ranch, which was once owned by actor Jimmy Stewart, also has the distinction of being the site where the rare native loulou palm was discovered in the 1960s. In the years following its discovery, only a dozen or so of these trees existed—all on the ranch. Today, thanks to conservation efforts, the loulou palm is thriving on a preserve on the island.v During your tour, you'll get the chance to catch a glimpse of this special tree, as well as hear more about the property's noteworthy backstory. 
Admission: 

Tours are available for groups of up to 5. 1.5-hour tours are $179.00 plus tax, per rider. 3-hour tours are $340.00 plus tax, per rider.

 

Website: 

Hoomau Ranch

 
#8: Take a Walk in the Clouds at the Kona Cloud Forest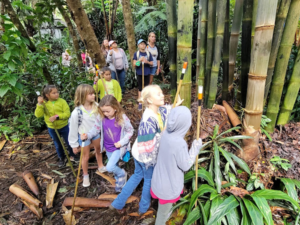 During a guided walking tour of this private sanctuary in Kailua-Kona, tour guide Kelly Dunn will give you a whole new appreciation for yet another of the Big Island's microclimates. Your three-hour walk will allow you to experience the distinctive plants, flowers, and trees that thrive at 3,000 feet on the slopes of Mauna Loa—some of which you'll only find on the Big Island. Wear sturdy shoes that you don't mind getting dirty. Walking sticks are provided for those who might need a little more stability. 
Admission:

 $95.00 per person. Children 12 and under are free.

 

Website: 

Kona Cloud Forest

 
Enjoy All of the Activities That the Big Island Has to Offer
This list of activities, attractions, and things to do in and around Kona will give you a great start toward filling your Big Island days with fun. If you have more time to explore, there's plenty more waiting for you in the other areas of the Big Island. Check out our guides to: 
Finally, if you're considering a move to the Big Island, we'd be happy to help! With crews and warehouses on both the Kona and Hilo side, we can help you get anywhere on the Big Island that you want to go. Get started today with a complimentary quote for your move.